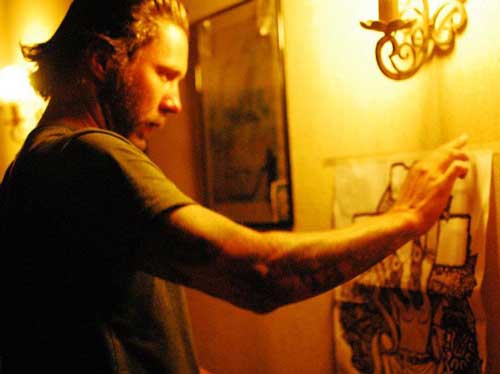 Roberto Jaras Lira was born and raised in Santiago, Chile, in the middle of a military dictatorship – a time of closed borders, cultural repression and early curfews. Obsessed with anything that came from "beyond" – 80s toys, comics, skateboard culture, post punk… and whatever was featured in foreign magazines. But since getting the real items was almost impossible, the next best thing was, well, making his own. So he began copying shirts, skateboard graphics, stickers, posters, LP aesthetics, etc. All of a sudden, a relationship with drawing, sketching, painting and tattooing had begun.
Later he became deeply in love with the chicano tattoo culture and lowbrow art scene of Los Angeles, where he lived in the early 90s, and after a few lucky breaks, art became his full time job.
Currently he spends his time painting, doing illustrations, tattooing and anything in between; his usual themes include religious imagery, occult symbology, sacred geometry and God knows what.
—
Roberto Jaras Lira nació y se crió en Santiago de Chile, en medio del entonces régimen militar de Pinochet – una época de limitaciones, represión cultural y toques de queda. Lo gris del entorno hacía fácil volcar la mirada hacia cualquier cosa de "afuera" y que echara a volar la imaginación. Los cómics y los juguetes de la época, luego la cultura del skate y la música post punk… todos tesoros exóticos encontrados en las pocas revistas que se lograban obtener, y que hacían imaginar una vida llena de colores y posibilidades. Las imágenes se transformaron en símbolos de libre expresión… y como era prácticamente imposible conseguir cualquiera de estas cosas, se copiaban. Así, empezó a pintar sus propias camisetas, stickers, luego siguieron sus tablas de skate etc. De este modo partía una relación con el dibujo, la pintura, el diseño y la creación en general.
Luego del cambio de gobierno conoció el llamado "lowbrow" o pop surrealista, la cultura chicana y del tatuaje de Los Angeles, CA, donde vivió a comienzos de los 90s. Sus trabajos empezaron a cobrar un carácter más personal, y gracias a ciertas oportunidades, en su trabajo de tiempo completo.
Actualmente incorpora símbolos religiosos, ocultistas, geometría sagrada y quien sabe qué más, y sus medios favoritos son el acrílico sobre tablero, la tinta sobre papel, los muros, y el tatuaje.